Prestige Golfshire 4 Bedroom Villas Nandi Hills Bangalore
Overview
Prestige Golfshire Villas
| | |
| --- | --- |
| Land Area | 275 Acres |
| No. of Villas | 288 Mansions |
| Villa Sizes | 5896 sq.ft to 9715 Sq.ft |
| Plot Size | 6555 sq.ft to 18708 sq.ft |
| Location | Nandi Hill Road Bangalore |
| Price | 6.2 Crores Onwards |
| Possession | Completed & Ready |
Prestige Golfshire is a Luxury Villa Project along with a 18 hole golf course and Club House located at Nandi Hills Road Bangalore. The property is spread across 275 Acres of land and comprises of 209 villas of an area ranging between 5896 - 9905 sq.ft. with the prices starting from Rs. 6.2 crores.
Prestige Keys 2018 - Just Pay 10 % and own a house in Golfshire, remaining amount to be paid in 2020.
Prestige Golfshire has got different types of Villas with different dimensions and sizes. 
Augusta is the largest and most luxurious of all the mansions at Prestige Golfshire, The super built up area of 5 bedroom villa is 9905 Sq.ft. with the area of plot ranging between 8030 sq.ft to 14596 sq.ft. Aldrich Villas has got a majestic view of Nandi Hills and the sizes of each home vary between 9719 Sq.ft or 903 sqm. with a plot size of 8342-18708 sq.ft. Beaumont villas at Golfshire offers you a never ending greens outside and the 5 Bedroom villa size is 8111 Sq.ft or 754 Sqm. with a plot area of 7352 - 8923 sq.ft
Burbank offers yet another impressive view of the greens and the villa area is 8120 sq.ft or 754 Sqm.  with a land area of 7395-10312 sq.ft. Clairborne sits on lush green, manicured gardens giving you the feeling of dwelling in a clean, green space. Villa area is 7485 sq.ft or 695 sqm. Creston also called the 'garden mansion', is what living amidst nature is all about with an area of 7495 sq.ft or 696 sqm. Darwen is the same as Clairborne in design except its size is 5896 sq.ft or 548 sq.m. The area of Dover Villa is 5896 sq.ft or 548 sqm.
Prestige Golfshire has got a 18-hole golf course along with a Club House with all major amenities and facilities. The project is designed by PGA Design Consulting and most of the villas are facing towards the Golf course. Placed atop the highest point on the 275- acre property, Prestige Golfshire will have a luxury Marriott Hotel. With a panoramic view of the golf course, the hotel will house 300 rooms including 30 luxury suites, 7 pool villas, banquet halls, infinity pools, a coffee shop, specialty restaurants, along with a conference & convention centre.
As charming as the names they go by - Augusta, Aldrich, Beaumont, Burbank, Clairborne, Creston, Darwen and Dover, the ultra-luxury 4 and 5 bedroom mansions at Prestige Golfshire come in 8 different, uber- exquisite designs, each with its own private swimming pool. The tropical architectural designs of the mansions by the award-winning MAPS Design, Singapore and Thomas Associates, Bangalore reflect a spirit of serenity, peace and tranquility.
Floor Plans
Price
Prestige Golfshire Villas Price
Villa Type

Villa Area




(sq.ft)

Plot Area




(sq.ft)

Price Range




(Rs.)

4 Bedroom

9905

8030 - 14596

9.9 Cr.- 13.5 Cr.

4 Bedroom

9719

8324 - 18708

9.71 Cr - 11.5 Cr.

4 Bedroom

8111

7352 - 8923

8.2 Cr - 8.8 Cr.

4 Bedroom

8120

7395 - 10312

8.1 Cr. - 8.3 Cr

4 Bedroom

7485

7083 - 9375

7.4 Cr. - 8 Cr.

4 Bedroom

7495

6598

7.5 Cr. - 8.2 Cr.

4 Bedroom

5896

6555 - 14025

6.2 Cr. - 7.3 Cr
Prestige Golfshire 5 Bedroom Augusta Villa price ranges between Rs. 9.9 crores to 13.50 crores, the Plot area of each villas rages between 8030 sq.ft to 14596 sq.ft. Augusta is the largest villa in this golf course villa project with an built up area of 9905 sq.ft. Aldrich villa size is 9719 sq.ft and has got a land area of 8324 to 18708 sq.ft which will cost Rs. 9.71 crores. Prestige Golfshire villas with an area of 8111 sq.ft will fall in the budget on 8.2 crores, which will have a site of 7395 sq.ft.  The size of 4 bedroom villa is 7485 sq.ft and the price list for the same is shown in the above Golf villa price table. As most of the villas are completed and ready to move in, the customers are not required to pay GST.
Amenities
Prestige Golfshire Amenities
The Falcon Greens Golf Clubhouse at Prestige Golfshire is owned and managed by Prestige. The Club will be a unique blend of self-indulgent features, contemporary design and impeccable service. Replete with a wellness zone, swimming pool, squash court, tennis court, gym, a golf pro-shop and a coffee shop among other facilities, the clubhouse is where you can pick up equipment or get a 'pick-me-up' yourself.
Location
Prestige Golfshire Location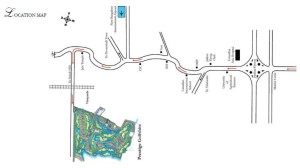 Prestige Golfshire is located at Nandi Hills Road, Karahalli Post, Kundana Hobli, Devanahalli Taluk, Bangalore.
The Golf Course Mansion is just about 45 minute drive from the heart of Bangalore city and a short 10 minute drive from the new Bangalore International Airport, Prestige Golfshire is as close to Bangalore's business and commercial district as it is away from it all..
Gallery
Prestige Golfshire Photo Gallery
Prestige Golfshire Walkthrough Video
Ultra Luxury Residences Bangalore